» Home » Products » Pump Priming Eductor

PUMP PRIMING EDUCTOR

Features:


The PRIMETECH priming ejector is designed for mounting on non self- priming centrifugal pumps thus making the pump unit self-priming. In order to make the unit work, the delivery pipe has to be shut off, e.g. by means of a non-return valve/closed discharge valve.
The pump chamber of a centrifugal pump needs to run full of liquid for the pump to start with the pumping. This creates a problem when there's a positive height difference between the Pump Suction level and Sump liquid level. This height difference is known as Suction lift. Hence the liquid needs to be drawn upto the pump chamber top level to ensure pumping start-up. The process of ensuring liquid presence in the suction line and pump casing is known as Priming.






Working Priniciple:


Compressed air will flow through the ejector and create a vacuum in the pump casing and suction line thereby drawing liquid from the source well into pump casing. With a pre-determined time delay, the pump casing gets flooded upto discharge level, which is indicated through liquid discharge at Primetech Ejector. Then pump is started and will build up pressure in the discharge line which will activate the pressure switch. The pressure switch then disconnects the signal to the Ejector motive solenoid valve and the priming stops automatically.



Typical Installation: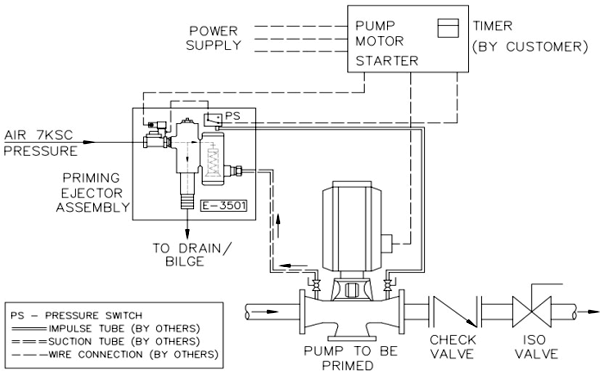 Further details and technical spec, download our

product catalogue.