» Home » Products » Hydrostatic Lubricator for Steam Locomotives

HYDROSTATIC LUBRICATOR

Application: Locomotive / Railway Industry
Highlights:


Primetech has developed a hydrostatic sight feed lubricator in conjunction with Indian Railways to function on the heritage network. This type of four feed lubricator can be manufactured for sale world over.



Features:


The Sight Feed Lubricator is of the hydrostatic type. The one piece lubricator is of fabricated brass and incorporates the condensing chamber, the oil reservoir, and the sight-feed chamber. Passages within the body of the lubricator inter-connect each of these areas.



A filler plug is screwed into a projecting boss on the front of the body to allow for filling the oil reservoir. The position of the filler is such that the top of the threaded hole is the level to which the lubricator is to be filled. A drain plug is situated on the lower front of the body to allow for the oil reservoir to be drained. Screwed into the base of the reservoir is the pressure-relief valve. This relief valve consists of a body, cap-nut, spring, and valve. The spring is compressed between the valve and the cap-nut sufficient to keep the valve shut when under normal operating conditions.






Working Priniciple:


Steam enters the condensing chamber and condenses into water, filling the passage down to the water valve. Steam also flows along the passage to the delivery pipe, some of which condenses in the 'dead-leg' that is the sight-feed chamber. When the water valve is opened, water enters the bottom of the oil reservoir, displaces the oil and causes it to rise and fill the oil passage down to the oil regulating valve.



When the oil regulation valve is opened, the oil – which is now subjected to boiler pressure plus that due to the head of water acting upon the oil in the reservoir – is forced up through the feed nipple and into the water in the sight-feed chamber. The drop of oil rises up through the water in the passage above the sight-feed chamber and, upon reaching the surface, is carried away by the action of the steam passing along the delivery pipe to the steam chest.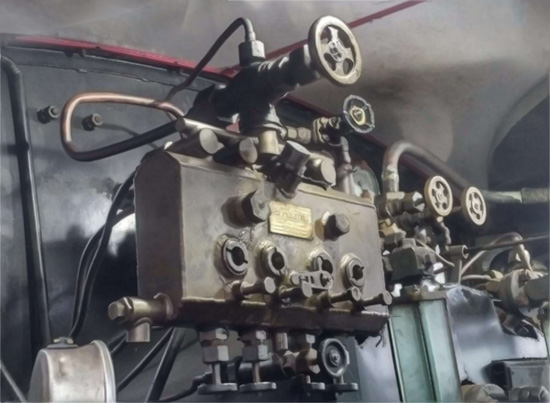 Further details and technical spec, download our

product catalogue.